I am a qualified hypnotherapist.  Right now I have put on some weight and need to get the pounds off.  One of my goals for 2015 is to run a marathon.  To do this I need to get out and train and to lose some weight which would also help me to start training.  Being fit and healthy is also very important for our sense of well-being and makes us feel happier so getting the weight off and becoming fit is a really worthwhile goal.
I was very heavy in the past.  I weighed an unbelievable 116 kgs in 2009 (over 18 stone).  I was powerless to lose weight until I discovered self-hypnosis.  At the time I was overweight I felt really trapped.  I felt I had zero willpower and everytime I tried to lose weight I just ended up eating more and getting heavier!  I was addicted to crisps, cake, ice cream and other fattening foods.  My portion size was very large and I was snacking between meals.  I was not exercising regularly.  I know hypnosis works and is very powerful and I want to demonstrate how powerful it is through this experiment.   In particular if you feel trapped by being overweight like I was I want you to know this is the answer.  With hypnosis I promise you that you can eat whatever you like and still lose weight!!
The experiment
This experiment is to use self – hypnosis to lose weight over the month of April.  To lose weight I commit to listen to a self – hypnosis recording 3 -4 times per week for the 4 weeks of the month.  The recording lasts about 40 minutes.  At the moment I am eating all types of fattening food – cakes, ice cream, chocolate, sausage, pizzas etc.  I am also not exercising regularly.
Weight at the beginning of the experiment on April 1st = 101.6kgs (about 16 stone).
Weight at the end of the experiment on April 30th =
If you would like to try this experiment and lose weight yourself you can download the weight loss recording I am using which I recorded myself for FREE below.
Click here to download your free weight loss self hypnosis recording.
————————————-
10-Download Weight Loss Hypnosis Package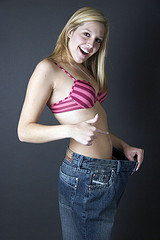 One supplier of hypnosis downloads which I highly recommend is Uncommon Knowledge based in the United Kingdom.  They supply quality hypnosis downloads.
They have a programme to help you lose weight quickly and easily which is a 10-Download Weight Loss Hypnosis Package which has been purchased by 2320 customers.  That is a lot of customers!   I can vouch for the quality of their material as I have a number of their downloads.  Uncommon knowledge were also recommended by the school in Ireland where I learned my hypnosis.   To find out about their weight loss package please see the link below:
Click here to find out more about weight loss hypnosis
"You can complain that roses have thorns, or rejoice that thorns have roses." ~Ziggy