A. My Books & Courses:
1. Experiments in Personal Change (published October 2015)
This book is about taking six key personal growth areas and experimenting with them in your own life. The experiments are written in such a way as to make them actionable so that you can put them to the test in your own life and observe the results yourself. The information contained in the book is designed to be short and easily digestible. If you read this book and take action by trying out the experiments and reflect on the results, then you will gain knowledge that can transform your life for the better.  Experiments in Personal Change is available in e-book and paper version.  An audio book version is currently being developed and will be available on Audible.com in September.
2.  The Experiments in Personal Change Course – Coming Soon!
The Experiments in Personal Change Course (EPCC) is coming soon.  EPCC  is based on the experiments in the Experiments in Personal Change book and consists of a series of video tutorials on the experiments.  The launch date for the Experiments in Personal Change Course is first quarter 2018.   Please subscribe to our newsletter to be kept informed of the release date.  Those who subscribe to the list will receive a special launch discount !  Have a look at the course preview video below:
3. Monkey on My Back (published October 2014)
'Monkey on My Back' is about my own personal experience of pursuing a doctoral degree which I achieved in 2012.  This was a tough personal journey full of ups and downs and soul searching on my overall vision and future direction for my life.  I struggled with issues such as the 'Impostor Syndrome' and I agonized over whether I should I quit the PhD or not.  There are good lessons in the book on what to do to achieve any tough goal such as how to use the power of your own mind to visualise success, how to avoid destructive thinking and how to harness the power of routines and habits to ensure eventual success. Most importantly you need to answer the big question before embarking on your goal – is the ladder leaning against the right wall?
Read more about the book here: http://lifeisalaboratory.com/monkey
4. Six Session Weight Loss Programme & Free E-Book and Mp3 Audio download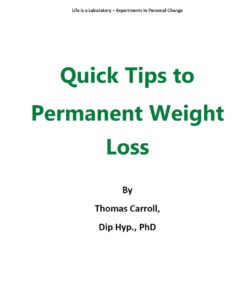 I was trapped and stuck.  Every time I tried to lose weight I just ended up eating more and became heavier!  I felt totally powerless over myself. It was as if another part of me was eating and I could not stop myself.  However then I discovered hypnosis and as a result of self- hypnosis my weight dropped naturally from 113kgs (249 lbs) to 86kgs (189lbs). I lost 27kgs (59.5lbs) and kept the weight off!  I will never feel powerless again when it comes to food.   Read my personal story and also access the free self-hypnosis audio which I used to help me to lose weight.  I am ready to work with you to help and support you to lose weight.  Please see the Weight Loss Programme for further details.
B. Need my personal support?  Book a Free Skype call.
I am ready to help and support you directly on your own personal development journey.  I am approachable, empathetic and friendly.   We can discuss how I can help move forward in your life and I will answer any questions or address any concerns you have before embarking on further sessions if you decide to proceed (that is totally up to you). Most important is that you feel that I am the right person to support you achieve the positive changes and goals that you want in your life.  Please select a time slot below to set up your initial 20 minute free consultation on Skype or phone (worth €50).


Charges for full sessions:
Our first consultation is FREE and there is no commitment to continue so please feel free to book above.  Follow on sessions are charged at €100/session of 50 minutes.
Is this a good investment?  Yes! According to the International Coaching Federation professional coaching brings many wonderful benefits: fresh perspectives on personal challenges, enhanced decision-making skills, greater interpersonal effectiveness, and increased confidence. And, the list does not end there. Those who undertake coaching also can expect appreciable improvement in productivity, satisfaction with life and work, and the attainment of relevant goals.
 "If you always do what you've always done, you'll always get what you've always got."

Henry Ford
 C. Recommended Products
On this website I recommend both my own and third party products and services which I believe are of the highest standards and will support your personal growth and development.  I have personally tested the third party products and services I recommend.
1. GoalEnforcer
Here is a wonderful planning tool that I have used for many years.  GoalEnforcer is a very intuitive way to plan projects.  It is fast and easy to use.  I use the software to plan all my projects and update these plans on a weekly basis.  I love the ease of use of the software.  The fact that I have stuck with this software for many years shows how good it is.  I highly recommend you use it to plan your goals and projects.
2.  The Journal by DavidRM Software
I have used this journal software for the past number of years and love it.  As discussed in my book 'Experiments in Personal Change' I write in my journal twice daily to reflect, to plan and to record what is going on in my life.   The software allows me to time travel to the past (to see what I was doing, feeling etc) and travel to the future (to leave notes for my future self).  The software is ideal for Journal Therapy which is the act of writing down thoughts and feelings to sort through problems and come to deeper understandings of oneself or the issues in one's life.
To find out more about/order The Journal software please use the links below:
Order Link
Demo Download Link
Product Information Link
3. Hypnosis Downloads
I am a strong believer in changing any negative and destructive sub-conscious thoughts which drive our habitual behaviours.   One way to do this is through self-hypnosis.   The following course from Uncommon Knowledge is designed to programme your mind for success.  I recommend products from Uncommon Knowledge as they are well put together and high quality.

New from February 2016 from Hypnosis Downloads:
Reading Out Loud
Stop Negative Globalizing
Confident Host
4.  Products by Brian Tracy
Lifelong Learning Sale – Save 25% OFF on All of the Lifelong Learning Training, Accelerated Learning Techniques, Science of Self Confidence, Positive Focus materials and much more from BrianTracy.com. No coupon necessary. This sale is valid from August 12th to 22nd.
When it comes to the personal development/business field I also recommend products by Brian Tracy.  He is without doubt one of the gurus of personal development today.
"Personal Success Made Simple"!
How to Make My Life a Masterpiece
The Seven Laws of Mental Mastery
To Develop Unshakeable Self-Confidence
The Power of My Subconscious Mind
To Set and Achieve All My Goals
To Unlock My Superconscious Mind
To Become a Purely Positive Person
To Become My Own Psychologist
To Develop a Winning Personality
How to Be Happy Together
How to Raise Happy, Healthy, Self-Confident Children
The Secret of the Ages?"
You get 50% off the above course when you order through the link below: