"What you get by achieving your goals is not as important as what you become by achieving your goals." – Zig Ziglar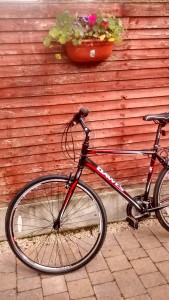 For the past seven months I have procrastinated about buying a bicycle.  I had all the excuses:
I can't afford to buy one
I am not sure which type to buy
I am not sure which shop is the best value
I will get my old one fixed (turned out to be too expensive)
I will search for a cheap second hand one online
I will buy one after I buy my son one
However today I just drove to town and bought a new bike.  No hesitation at all.  All my excuses just fell away.  Why?  Because I have a new goal which is to run the Dublin City Marathon at the end of October.  My marathon goal scares me as I just ran a half marathon in early July and I could barely finish the half marathon.  To achieve my marathon goal I have taken on an exercise programme which states that I should cycle for 30 minutes as part of my marathon training.  I know I must stick to my training programme or risk failing to achieve my goal. Therefore I had to jump in my car and buy a bike – no excuses or no questioning myself.  Just do it!
While out cycling afterwards I realised that while I live in town there is beautiful countryside and quiet country roads not far from where I live.  I ended up cycling a quiet country road which I had never traveled before only minutes from where I live.  There were beautiful views of the Slieve Bloom mountains as I cycled.  I also realised that my children would enjoy this as well so more excuses on getting their bikes sorted out so then we can enjoy bike rides in the country together.
Another benefit of my marathon goal is that is forcing me to watch what I eat and lose weight.  You don't want to try and run a marathon being overweight.  I simply must lose weight or suffer later.
Today I learned how having a big goal can force you to change in positive ways.  My big goal of running the marathon spurred me into action and all my excuses for not buying a bike for the past half year just melted away.  My bike ride opened my eyes to the beautiful countryside where I live and to the possibility of getting my children involved in a new activity.  My marathon goal is also forcing me to stop eating junk food and lose weight – something I have failed to do for the past year.
Its not just about running the marathon but the also the changes you have to embrace on your journey to reach your goal.  This is how big goals can change you.