When you subscribe to our newsletter you will be directed to a link to a downloadable E-Book on Goal Setting. Learn key tips to effective goal setting TODAY!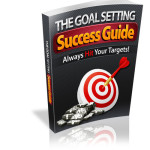 The Crucial Factors Discussed in The Goal Setting Success Guide include:
Establishing Realistic Goals
VIPER Goal Achievement Strategy
Vision to See Things Clearly
Maneuvers in Developing Tactics
Writing Effective Self Affirmations
Staying Motivated and Determined
Setting Goals Based on Values
Monitoring Progress and Taking Action
And much, much more …
Note:  We hate spam as much as you do and will never share your email address.